The GOM (Grumpy Old Man) has arranged a week's holiday for us in Mercia, Southern Spain with friends who'd retired there a decade ago.
"What else would you like to do?" Mary, our hostess, asks. We have already agreed to our host Don's suggestions of the Roman Theatre Museum in Cartagena, the ice houses of Sierra Espuña, and the military guns near Azohia. "What about markets?" The GOM raises his caterpillar eyebrows. Markets aren't really his scene but he indulges my passion-cum-livelihood.
Wednesday morning: market at Totana. Oh, joy! A haberdashery stall. Lace, vintage and new; unusual braids; a jumble of ribbons. Mary asks prices for me. "Cuánto es?"
At a fruit stall, Mary buys strawberries – almost at the end of their season here – and cherries.
Another haberdashery stall. A neat array of zips hanging up, buttons in upended tubes, rolls of ric rac, sewing threads, shears and scissors ("Spanish scissors are the best" according to one of my customers).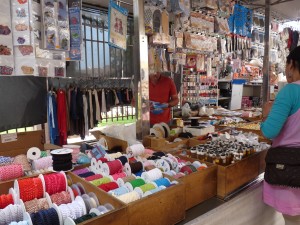 At the veg stall we admire enormous twisted red peppers, bulbous, long-stemmed spring onions and strange knobbly pepinos – Spanish cucumbers, apparently. There are also surprisingly homely vegetables: potatoes, carrots, cauliflowers and tomatoes, of course – though the farmers are moving over to growing grapes, Don tells us.
A fabric stall! I finger through lengths of fabric, which are clipped onto hangers. Two entice me: a black flowery stretch lace and a pink retro-patterned chiffon. "Uno – 3 euros; Duo – 5 euros" a sign informs. No need to ask "Cuánto es?", but the stallholder tells me anyway. I take them both.
Hmm. I could use his method of displaying fabric. "Photograph, okay?" I ask. The stallholder beams, makes a show of preening himself, and poses against the hanging rail. I've made his day.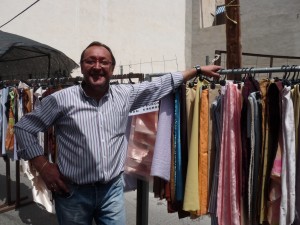 "There's another market on Saturday at Mazarrón, if you like," says Mary. Ooh, yes please.