2020 has been a strange year for all of us with the coronavirus / Covid 19 and it certainly has been a strange year for us car booters.
You might think that January, February and March are quieter months even during normal times as the car boot season doesn't really get underway until around Easter. But many booters – mainly traders – do sell all year round. Here on the south coast we have Ford, Hayling Island, Brighton Marina, Chichester and Bridgemary at Gosport which are all open Jan-Dec. Some traders even prefer the early part of the year: they maintain that with fewer sellers around there is less competition and that the buyers spend more time studying the stock that is for sale. But this year the word was that (buyer) footfall was down (due to the news that was emerging from China?) and that antique dealers had been living off their savings since January.
As for me, I tend to do fewer car boot sales in the early part of the year. My usual customers tend not to stay at home and craft when it is cold. So when I do venture out, it tends to be with non-haberdashery stock – early this year, that included some large clothes rails and some dummies that had come in a large job lot that I had bought in January. I find also that it's a good time to do a clear out and sell on eBay. I was looking forward to getting back to booting.
And then this happened: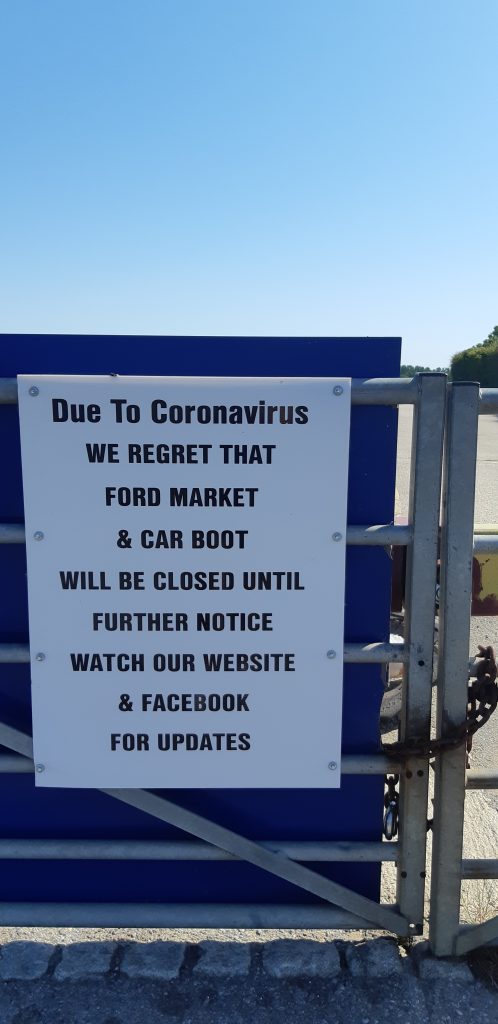 The question we've all been asking is: when will car boots start up again?
Well, fingers crossed for Saturday 4th July!
Do check out the website and/or Facebook pages of your local car boot to confirm if/when it will be open and also for any instructions about how it is going to operate.