Thursday, 22nd January 2015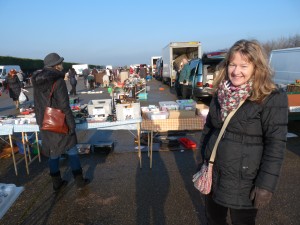 Yippee! The forecast is cold but dry and sunny: I can go to work!
This is the first time I've been able to do a stall for weeks. It's rained every Thursday and Saturday since before Christmas. Not all morning and not necessarily heavily but even a short light shower is enough to damage my stock. Other traders turn up rain or shine. Indeed some swear that the worse the weather, the better their trade. Of course, I've popped by to say "hello" and to buy – it's as if my car knows the way.
I arrive at Ford at 8am and am let through straight away. No point in joining the dealers who queue from the early hours, not at this time of year. It's different in summer, when otherwise you may not be guaranteed a pitch, even in the overflow area.
After I'm parked up, I mark out my pitch with a couple of garden chairs. The number of times people ask if my chairs are for sale! People will always stop and look at whatever box is on the chair. Today I put out a box of large leather pieces, upholstery offcuts. Next to the box of leather, I place a 1960s black-and-white sewing box on legs and a broken sewing- or writing-box. I buy these items for the sewing contents only, and I want these to go – they take up valuable storage space. Ford is a good place to buy or sell this sort of thing as it's a second-hand goods only car-boot frequented by antique dealers, especially on Thursdays.
First sale of the day is the sewing box to a lady who wants to do it up as a present to a sewing-mad friend. She also buys a couple of tassels. When Box-Man pops by, I show him the broken box which he buys for a couple of quid (for the hinges) along with two tassels which he uses to decorate the keys to his boxes. Box-Man has been a regular customer since I started at Ford, about 18 months ago. "What's your name?" I ask today. "Fred," he says.
The Pretty Lady (Karen) is out early today. We greet each other like long-lost friends. Trade is steady, but slow. The cold must have trumped the sunshine. No Blind-Greyhound Lady, no Colourful Lady, no Glynis. Then suddenly Number 3 (Chocolate) appears and takes over the stall so that I can "have a wander" ie have a chat with fellow stallholders, use the facilities, and buy. Today I buy a new pair of pretty slippers for 50p, a tin of buttons and a load of wool. I spot Dog-Coat Carol at my stall and hurry back to say hello.
The white vans (the clearance guys) are the first to leave. The energy collapses like a soufflé. Must be 11am. Packing up time. Number 3 takes my new purchases off my hands (I know they won't fit in my car once I've reloaded it) and drives back home. I'm in no hurry and benefit from the last-minute buyers. One of my wholesale customers pops by and we discuss stock and storage and the good old days.
Back home, I cash up. It's not been a great day financially but not a disaster, either. But more than that, it's been great to catch up with people, to look round the car boot, and to spend the morning in the open air.
Oh, it's good to be back at work!
How to get to Ford Airfield car boot: Postcode for the satnav is BN18 0FL. There are two entrances/exits – if coming from Yapton Road, you'll see a very large sign; if coming from Ford Road, look for the plane on the pole!