If you've been inspired by The British Sewing Bee, why not find out if there are dressmaking classes in your area?
In West Sussex, we're very lucky to have a variety of classes on offer. I've recently attended two 10 week evening class courses in Dressmaking for Beginners at The Regis School with the education charity Aspire Sussex.
"Dressmaking for Beginners?  But surely, you're an expert?" Well, no. Sewing isn't necessarily dressmaking. I've used my sewing machine to create shopping bags and Christmas stockings and so on, but I hadn't done any dressmaking since school.
During the first couple of weeks, we learnt about the importance of taking our measurements, how to choose a pattern, and about different fabrics. For the first course I chose a very simple pattern and made a two short sleeved versions and one three-quarter sleeve version.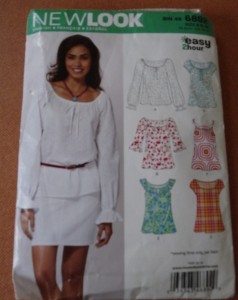 A simple pattern to start with!
For the second course, I decided to use some light-as-air vintage silk to make a nightdress adapting a vintage pattern for a slip. As well as ensuring a good fit, our teacher, Linda Curwen, showed me how to make and use stay-tape using the selvedge and also suggested strengthening the straps by threading through narrow ribbon.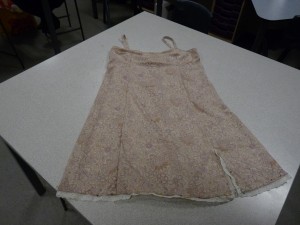 Almost finished!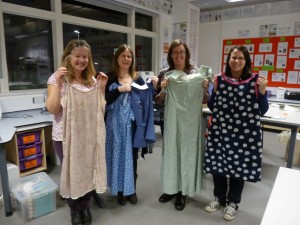 Didn't we do well!
For more information on dressmaking courses in West Sussex, see: