Folded books? Never heard of them… until I met Michelle.
One of the joys of selling sewing and craft supplies is meeting crafters and learning about their crafts. Michelle is passionate about book-folding – the craft of folding pages of a book in such a way that a word or image is formed. An example is "Mr & Mrs" – a popular choice for wedding or anniversary gifts. Michelle tells me that any book can be used – it's the number of pages that is important – and that the patterns are available from Etsy.
"Love" and "Home" – aren't these amazing!
As you can see from the above, Michelle uses ribbons and embellishments – which often have to be colour matched to customer requirements – to decorate her folded books. This is where I come in!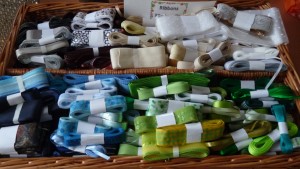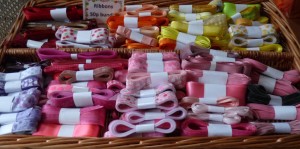 Bundles of ribbon are used to embellish…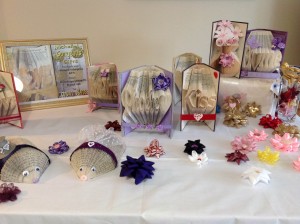 … folded books, flowers and hedgehogs
Michelle has also added shoes, butterfly books and wedding cakes to her repertoire:
Michelle's Facebook page is Michelle's Gorgeous Gifts and her contact no is 07941 984168.