We've been doing a whistle-stop tour of castles in South East England over the last couple of months. This is thanks to a guest over from Canada. My interest, of course, fixed on any arts and crafts info.
First stop was Lewes Castle. This has fascinating information boards about weaving in spinning and weaving in pre-historic times:
We returned to Lewes to visit what is known as Anne of Cleves' House (okay, I know it's not a castle, but bear with me…) and I liked this information board: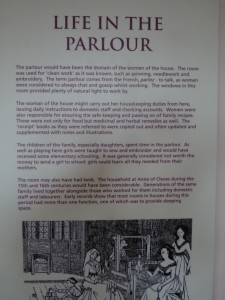 Our guest wanted to see Dover Castle. This was quite a long trip for us, but well worth it! And here in the Princess of Wales' Regiment Museum was this exhibit, one of eight scarves crocheted by Queen Victoria and sent to South Africa in 1900:
We also visited Arundel Castle (our "local"), Hever Castle and Leeds Castle. At Hever Castle, you can see (but not photograph) Anne Boleyn's coif and also an exhibition of shoes.
Seeing so many castles in such a short space of time really helped to clarify our sometimes hazy history, particularly of the time after the Norman Conquest (which ties in nicely with the Bayeux Tapestry) and of Henry VIII and his six wives.
But for me, what is exciting when on the tourist trail is never knowing what arts and crafts info and exhibitions you might come across!