Oops, they've done it again!
As you can imagine, the weather is one of the key topics of conversation amongst regular booters and this year (2016) we've noticed a mismatch between the weather forecasts and the actual weather.
Take Thursday 7th July for instance. Here is the weather forecast: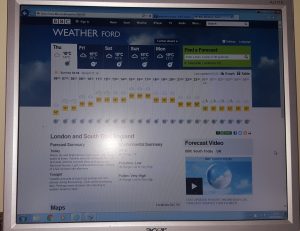 Sunny all day!
And this is what actually happened: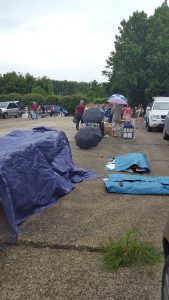 Yes, umbrellas up and stock covered over with groundsheets!
It can work the other way too, of course. The forecast for Ford this Saturday just gone (10th September) was for rain in the morning so at least one of my fellow car booters decided not to go – and it turned out to be fine!
So what's up this year? Why the mis-match? It's something I raised earlier this year when HMRC commissioned a survey amongst business owners to find out their concerns and what measures might be helpful. For booters, it's accurate weather forecasts! If it rains when you're not expecting it (or, more accurately, unprepared), you face potentially losing lots of stock, depending on the type of things you sell of course. If rains is forecast but doesn't happen, you've lost a morning's takings. Not so much a problem for hobby-booters, but for regulars a few repeats can have dire financial consequences.
Well, it seems somebody is listening, or at least thinking along the same lines, as the BBC is moving its contract from the Met Office to Meteogroup from next spring and promises better weather forecasts.
In the meantime, all we can do is be prepared even if the forecast is for dry weather – take plenty of spare plastic groundsheets or (preferably) transparent covers ready to throw over your stock, plus possibly some clips or something to weight them down.