Bursledon is one of the "three Bs" of car boots spoken about in reverential tones on the south coast car boot circuit. (The other two are Borden and Burpham. Other car boots frequented by the coterie include Brighton Marina – Kempton and Wimbledon.)
I'd always thought of it as a bit too far for me to travel because people talked about it being over Southampton way until one of the guys pointed out that it wasn't actually much further than going to Hayling. Down the A27, come off at Junction 8, loop back on yourself at the second roundabout by Tescos. We decided to give it a go.
At first, we found it a bit of a mixed bag. Signage was good outside by the roundabout but once inside there was no indication about where buyers and sellers should go. Once the sellers' entrance is found, you pay on the gate, and prices are very reasonable – just £6 for my car. Once inside, you are marshalled to your space – this is the time to ensure sufficient room between your car and next door's. Where we were, the cars were side by side (like at Brighton Marina) rather than bumper to bumper. There was, however, ample room between the two facing rows so in order to display all my items, I arranged my tables in a U shape: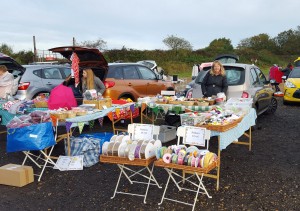 As you can see, we were on a dark gravelled surface (there is grass on some of the other areas). This felt quite strange and frankly down-at-heel compared to grassy sites like Sayers Common, Pease Pottage or Poynings, or hard standing sites like Ford. I wondered whether my sort of stall was really quite right for this car boot, especially as most of the stallholders around us seemed to be "proper car booters" – people who are clearing their loft, garage and wardrobes. This was compounded when our neighbour commented that Bursledon is a good place to get rid of stuff but you'd never make a fortune! Also, trade seemed slow to start with and initially with no sales of the large Christmas ribbons, which at just £4 for a 50m roll of beautiful ribbon usually sell like the proverbial hot cakes.
When I left the GOM in charge and went for my usual "wander" I met up with a couple who trade at Hayling who said that they find it worthwhile to take a double pitch at just £11. As it happened, our other neighbour left very early and we were able to move the tables and spread out. While on my "wander", several traders commented that it was unusually quiet and there was a lack of buzz which was put down to the clocks having gone back the night before.
Trade did start to pick up at around midday and several people seemed delighted that here at last was a craft supplies stall and asked if we'd be back again. And at last people started to buy the large Christmas ribbons!
One of my car booter chaps had told me that there are two exits and it depends which one is open. He said that if that one – pointing to where we came in, off the roundabout – was open, then we should go past a few bays before taking the path to the opening. (All this made sense when we left.) Also, it is one of the car boots where you need to leave early, like our neighbour, or leave late because in-between times you can be stationary in a queue for ages, when you might as well be still selling.
After such a lacklustre start, we thought we'd be lucky to do average sales, but when we cashed up we found that we'd done about 50% more than that! So that's why those on the car boot circuit talk about Bursledon, and yes, I think we'll be back.