Sunday 25th January 2015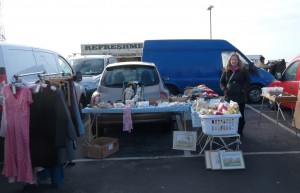 5.10 am. Time to get up and go to work. I arrive at Level 9 Brighton Marina car park just after 6am. It's still dark. Not as cold as forecast, and that's a blessing. Few stalls are set out yet. I head down to the end and join the masses of stallholders and others helping the removals guys unload their van. In return we get first pickings, which we scan by torchlight. Today it's mostly books and all I can find of interest is a couple of new boxes which will be useful in my office. The guy in charge (a lookalike of James Wong, he of Grow Your Own Drugs fame) asks for 50p each and laughs when I give him 2 fifty pence pieces, ready in my hand. "You've been here before!"
I return to my car to find a couple of dealers waiting. "Any glass, any china?" Unusually, I've brought some because today I'm selling some of my own unwanted items as well as some haberdashery. I unpack. Some car booters hate being stood over while they're unpacking, but it doesn't bother me – I just stop unpacking to serve any customers. Minutes later I've more than covered my pitch fee (£12).
The next car-booter arrives. The gaffer tells us that we can share the space in-between. Wow, that's a nice surprise! (Usually the place is packed with sellers and you get only the one parking space – unless you pay for more – so that's not a lot of room.) Even better, my neighbour doesn't need much extra space. I lay out china and glass on the ground and phone the GOM to ask him to bring more tables. Fortunately I've brought more stock than I would normally be able to put out at Brighton, and also extra tablecloths.
Usually it's quiet until around 8.30 or so but this morning it's non-stop. I haven't had time even to finish price labelling my clothes, or to take any photographs. The GOM arrives with the additional tables and we re-jig the set-up. Eventually it calms down enough for us to take photos, have a sandwich lunch, "have a wander" and to take turns using  the facilities (actually the facilities over at Asda).
It's about 1 o'clock before the first cars start leaving. No point me packing up before there's enough space to get out. When I do, I am delighted that three large cardboard boxes and a large bin bag are now empty.
It's been a good day!
How to get to Brighton Marina car boot : Postcode for satnav is BN2 5WB. From the A259 follow the signs to Brighton Marina. Get into the right hand lane for Level 9 of the car park.